Savon de Marseille 125gr.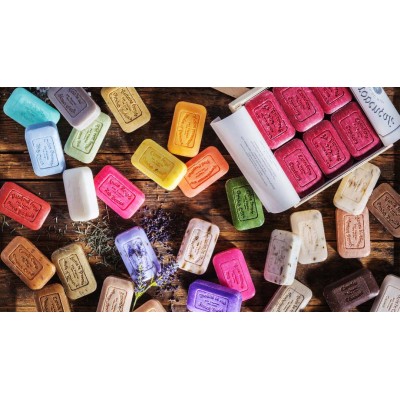 Dies ist der Klassiker in unserem Sortiment an feiner Savon de Marseille. Wie alle unsere Seifen natürlich rein pflanzlich und zu 100% VEGAN, mit mind 72% Pflanzenöl in der Gesamtmasse. Bitte beachten Sie, unsere Seife ist ein handwerkliches Manufakturprodukt, KEINE Industrie-Massenware. Daher kann die Farbe von Charge zu Charge leicht variieren, die Photos der seifen geben einen Eindruck der Farben, können aber diese nicht 100 genau abbilden. Wählen Sie aus einer Liste von über 45 Düften die für Sie schönste Seife aus! . Unser Parfums sind sowohl feminin, wie z.B. "Veilchen" und "Jasmin", oder maskulin, wie "Santal" und "Garrigue". Natürlich gibt es auch UNISEX-Düfte. So z.B. "Limette-Basilikum", "Verveine" und "Solleil de Marseille". Unsere Savon de Marseille ist aufgeteilt in vier ansprechende Duftkategorien. So finden Sie in der Gruppe "blumig" z.B. die Klassiker "Lavendel". "Rose", "Veilchen" und "Jasmin". Die Sorten "Lavendel" und "Rose" sogar in verschiedenen Ausführungen. Einmal mit und einmal ohne Blütenstückchen als Zugabe für einen Peeling-Effekt. Die Gruppe "fruchtig" enthält so schöne Düfte wie z.B. "Grenadine", "Melone", "Zitrone" und "Feige". In der Kategorie "frisch & würzig" sind vertreten die Düfte "Verveine", "Kräuter der Provence", aber auch ungewöhnliche Düfte wie" Noir de Nuit" und "Bord de Mer" Unsere 4. Kategorie sind die Düfte der Gruppe "warm & süß. Hier finden Sie z.B. "Vanille", "Honig-Lavendel", "milde Mandel" und "Kokosmilch". Die klassische Form unserer Seifen liegt gut in der Hand, wir haben diese Präge-Form für ganz bewußt für Stücke mit 125gr. anfertigen lassen. Somit setzen wir uns von vielen Wettbewerbern deutlich ab, welche Ihnen bei gleichem Preisniveau nur ein 100gr. Stück anbieten. Perfekt kombinierbar ist diese Seifenstück mit unserer Seifenablagen aus Olivenholz in ovaler Form (Art.No. SKGO), oder eckiger Form (Art.No. SKGEG)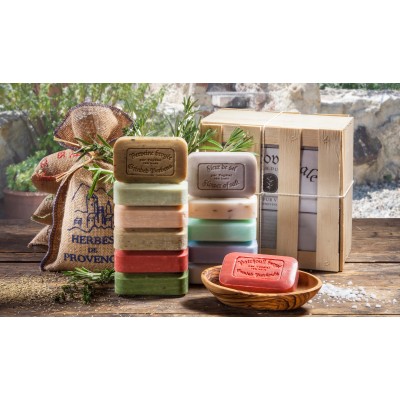 In this category of Savon de Marseille we present the spicier...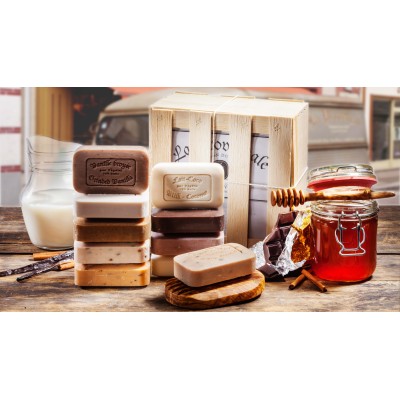 The right place for soap lovers with a sweet tooth: Let us invite...